About us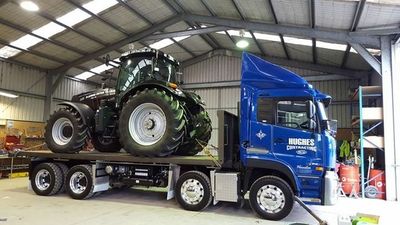 Hughes Contracting was established in 1986 by Brian Hughes. Over the past 30 years, Hughes Contracting has established itself as a leading contracting business in Southland and now employs up to 35 staff during the busy period of October through March.
Chris Hughes, Manager
Chris is the manager at Hughes Contracting and he has worked for the company since leaving school to "live the dream as an agricultural contractor". Chris enjoys the varied work and loves how every day is different with new challenges and new scenery.
Chris says technology has had a major impact on the industry since he started. The GPS tracking and guidance is a major plus for accuracy and fuel savings and newer, more efficient machinery ensures the job is completed on time and to a high standard.
Brian Hughes, Director
Brian started Hughes Contracting 2002 Ltd in 1986 from humble beginings and it's now one of the larger agricultural contracting businessess in Southland. Brian is still actively involved with the company, but not in the day-to-day management.

Jack Burgess, Baling Manager
Jack joined Hughes Contracting 2002 Ltd in 2015, having come from the UK. He has taken over the role of Baling Manager after having operated our Balers since he started. He can be contacted on
0278608509
and will be able to assist you with any Baling requirements you might have.

Sam Oliver, Silage Manager
Sam has been with Hughes Contracting 2002 for over 10 years having come from Northern Ireland. He was one of the first overseas staff we employed and has been with the company ever since,(apart from a brief stint driving milk tankers.) He is the man to get in touch with regarding any Silage that you need made on your property or Silage to purchase off one of the many Grass blocks that we have available.
He can be contacted on
0273752981

Norman Allan, Browns and Northern Southland Operations Manager
Norman started for Hughes Contracting 2002 Ltd in January 2019. He is looking after our operations in the Browns and Nothern Southland area. Norman knows the area well and has been a presence in the contracting game for a few years now. Norman can be contacted on 0276119595 and works out of our depot in Browns, he can assist you with any of the services we provide, which will keep your farm operation running smoothly.

Lyn Hughes, Admin/Accounts
Lyn is the Admin/accounts person for Hughes Contracting 2002 Ltd. She is married to Brian and looks after all the day to day paperwork involved with running the business.